Determination of Soil and Plant Analysis and Nutritional Status of the Areas Where Treated Wheat Breeding (Triticum aestivum L. var. Leucospermum (Körn.) Farw.)
Keywords:
Wheat, nutrients, macro elements, soil, straw, grain
Abstract
This study was carried out in 2012 to determine soil properties, nutrient elements and heavy metal contents in soil and wheat samples taken from 26 points close to the road, which is close to the predetermined road in Van, Erciş, Gevaş, Gürpınar and Muradiye districts. The results of the soil analysis showed that soil structure includes clay (2 regions), sandy-clayey-loamy (9 regions), sandy-loamy (6 regions), clayey-loamy (1 region) and loam (4 regions) and the pH varies between 7.80 and 8.59 (Alkaline). The regions of soil do not have salinization problem (90-300 µS/cm). The lime content ranges from very low (0.65%) to very high (76%). Soil samples were found to be problematic in terms of zinc from available phosphorus and micro elements. In plant samples, it was determined that the contents of nitrogen, phosphorus, potassium and magnesium were in the deficiency class at all sampling points, 50% of the sampling areas in iron, 57.7% in copper, 30.8% in zinc and 50% in selenium were below the sufficient values.
References
Akça H, Taban N, Turan MA, Taban S, Ouedraogo AR, Türkmen N 2017. Türkiye'de Sarımsak Tarımı Yapılan Toprakların Verimlilik Durumu. Toprak Bilimi ve Bitki Besleme Dergisi, 5 (2): 93-100.
Allison LE, Moodie CD 1965. Carbonate Methods of Soil Analysis, Part 2 (2nd edition). Agronomy Monography 9 ASA CSSA and SSSA 1379–1400.
Anonim 2005. Toprak Kirliliği Kontrolü Yönetmeliği. Resmi Gazete, sayı: 25831.
Anonim, 2017. Türkiye İstatistik Kurumu.
Anonim, 2019.http://www.daka.org.tr
Aydeniz A 1985. Toprak Amenajmanı. Ankara Üniversitesi Ziraat Fakültesi Yayınları: 928, Ders Kitabı No: 263, Ankara.
Bai Y, Wang L, Lu Y, Yang L, Zhou L, Nı L, Cheng M 2015. Effects of Long-Term Full Straw Return on Yield and Potassium Response in Wheat-Maize Rotation. Journal of Integrative Agriculture, 14(12): 2467–2476.
Bayram S, Gülser F 2018. Van İlinde Domatesin Yaygın Olarak Yetiştirildiği Alanların Toprak Özellikleri İle Domates Bitkisinin Beslenme Durumunun Belirlenmesi. YYÜ TAR BİL DERG (YYU J AGR SCI), 28(3): 358-367.
Bermudez GMA, Jasanc R, Plác R, Pignata ML 2011. Heavy metal and trace element concentrations in wheat grains: Assessment of potential non-carcinogenic health hazard through their consumption. Journal of Hazardous Materials, 193: 264–271.
Bonfila DJ, Karnielib A, Razb M, Mufradia I, Asidoa S, Egozic H, Hoffman A, Schmilovitchc Z 2004. Decision Support System for İmproving Wheat Grain Quality in the Mediterranean Area of Israel. Field Crops Res., 89:153–163.
Bouyoucos GH 1951. A Recalibration of the Hydrometer for Making Mechanical Analysis of Soils. Agronomy Journal, 43: 434-438.
Çelik M, Keskin N, Gülser F 2017.Van İli Erciş İlçesi Bağlarında Asmaların ve Toprakların Bazı Bitki Besin Elementleri Bakımından İncelenmesi. Türk Tarım ve Doğa Bilimleri Dergisi, 4(3): 347–354.
Çimrin MK, Boysan S 2006. Van Yöresi Tarım Topraklarının Besin Elementi Durumları ve Bunların Bazı Toprak Özellikleri ile İlişkileri. Yüzüncü Yıl Üniversitesi, Ziraat Fakültesi, Tarım Bilimleri Dergisi (J. Agric. Sci.), 16(2): 105-111.
Çokuysal B, Erbaş E 2004. Bitkilerde Besin Maddeleri Noksanlıkları ve Toprak Tahlillerinin Değerlendirilmesi. Ege Üniversitesi, Tarımsal Uygulama ve Araştırma Merkezi, Çiftçi Broşürü: 65, İzmir.
Doğan, O., Çöke, K., Çimili, B., 1980. Van gölü bölgesinin Tir tarım yönteminin uygulandığı yörelerde koşullara en uygun buğday çeşidi, tohum miktarı, gübre istegi, toprak hazırlama şekilleri ile Tir mibzerinin geliştirilmesi ve uygun sıra aralığının saptanması. Köy Đsleri ve Kooperatifler Bakanlığı. Merkez Toprak Su Araştırma Enstitüsü Müdürlüğü Yayınları, Genel Yayın No:73, Rapor Yayın No:25, 77s,
Ficco DBM, Riefolo C, Nicastro G, De Simone V, Di Gesu AM, Beleggia R, Platani C, Cattivelli L, De Vita P 2009. Phytate and mineral elements concentration in a collection of Italian durum wheat cultivars. Field Crop Res., 111: 235-242.
Fine LO 1965. Selenium. Agronomy Monograph, Methods of Soil Analysis. Part 2. Chemical and Microbiological Properties, 9.2:1117-1123.
Graham R, Senadhira D, Beebe S, Iglesias C, Monasterio I 1999. Breeding for micronutrient density in edible portions ofstaple food crops: conventional approaches. Field Crop Res., 60: 57-80.
Gülser F 1996. Van Gölü Havzası Büyük Toprak Gruplarının Verimlilik Durumları. Yüksek Lisans Tezi, Yüzüncü Yıl Üniversitesi Fen Bilimleri Enstitüsü, Toprak Bölümü, Van.
Gülser F, Erdoğan E 2008. The Effects of Heavy Metal Pollution on Enzyme Activities and Basal Soil Respiration of Roadside Soils. Environ Monit Assess., 145:127–133.
Güven A, Kahvecioğlu Ö, Kartal G, Timur S 2019. "Metallerin Çevresel Etkileri –III", İTÜ, Metalürji ve Malzeme Mühendisliği Bölümü, [online], http://www.metalurji.org.tr/dergi/dergi136/d136_4753.pdf, (30.01.2019).
Huang M, Zhou S, Sun B, Zhao Q 2008. Heavy Metal in Wheat Grain: Assessment of Potential Health Risk for İnhabitants in Kunshan, China, Sci. Total Environ. 405: 54–61.
Jackson M L 1958. Soil chemical analysis. Verlag: Prentice Hall, Inc., Englewood Cliffs, NJ. 498 S. DM 39.40.
Jones JB, Wolf B, Mills HA 1991. Plant analysis handbok. Micro-Macro Publushing, Inc., USA, 213p.
Kacar B 1984. Bitki Besleme Uygulama Klavuzu. Ankara Üniversitesi Ziraat Fakültesi Yayınları: 900, Uygulama Klavuzu: 214, Ankara, 140s.
Kacar B 1994. Bitki ve Toprağın Kimyasal Analizleri: III Toprak Analizleri. Ankara Üniversitesi Ziraat Fakültesi Eğitim Araştırma ve Geliştirme Vakfı Yayınları No:3, Ankara, 705s.
Kacar B, İnal A 2008. Bitki Analizleri. Nobel yayın no:1241, Fen Bilimleri:63 Ankara.
KARS, N., İ., EKBERLİ, 2019. Buğday Bitkisinin Verim Parametreleri ile Bazı Toprak Özellikleri Arasındaki Pedotransfer Modellerin Uygulanabilirliği. Türkiye Tarımsal Araştırmalar Dergisi. 6(2):153-164.
Lauchli, A., R., Pflüger, 1978. Potassium transport through plant cell membranes and metabolic role of potassium in plants. In: Potassium research- Review and Trends. Potash Inst. Bern. p: 111-163.
Lindsay WL, Norvell WA 1978. Develoment of a DTPA Soil Test for Zinc, Iron, Manganese and Copper. Soil Science Society of American Journal, 42: 421-428.
Lyons GH, Genc Y, Stangoulıs, JCR, Palmer LT, Graham RD 2004. Selenium Distribution in Wheat Grain, and the Effect of Postharvest Processing on Wheat Selenium Content. Biological Trace Element Research, 101:1-14.
Maas EV 1986. Salt Tolerance of Plants. Applied Agricultural Research, 1:12-26.
Marschner H 1997. Mineral Nutrition of Higher Plants. Academic Press Limited, 889pp, London.
Norton B 2009. Grain Nutrient Concentrations – Report on a Survey from 70 NVT Wheat Sites. International Plant Nutrition Institute, Australia and New Zealand, 1-21.
Özbek H, Gök M, Kaptan H 1995. Toprak Bilimi. Çukurova Üniversitesi Genel Yayın no: 73, Ders Kitapları Yayın no: 16. sf: 508. Adana.
Peleg Z, Saranga Y, Yazici A, Fahima T, Ozturk L, Cakmak I 2008. Grain Zinc, İron and Protein Concentrations and Zinc Efficiency in Wild Emmer Wheat Under Contrasting Irrigation Regimes. Plant Soil, 306: 57-67.
Peterson CJ, Johnson VA, Mattern PJ 1983. Evaluation of Variation in Mineral Element Concentrations in Wheat Flour and Bran of Different Cultivars. Cereal chemistry, 60(6):450-455.
Richard LA 1954. Diagnosis and Imprvement of Saline and Alkaline Soils. Handbook: 60, U.S. Dept. Of Agriculture.
Sakin, M.A., Yıldırım, A., Gökmen, S., 2004. Tokat Kazova koşullarında bazı makarnalık buğday genotiplerinin verim, verim unsurları ile kalite özelliklerinin belirlenmesi. Tarım Bilimleri Dergisi, 10(4): 481-489
Sarwar G, Schmeısky H, Hussaın N, Muhammad S, Tahır MA, Saleem U 2009. Variations in Nutrient Concentrations of Wheat and Paddy as Affected by Different Levels of Compost and Chemical Fertilizer in Normal Soil. Pak. J. Bot., 41(5): 2403-2410.
Sönmez, F., Ülker, M., Yılmaz, N., Ege, H., Bürün, B., Apak, R., 1999. Tir buğdayında tane verimi ile bazı verim öğeleri arasındaki ilişkiler. Tr.J. of Agriculture and Forestry 23;45-52.
Thomas GW 1982. Exchangeable Cations. P. 159-165. Chemical and Microbiological Properties. Agronomy Monography No:9, A.S.A.-S.S.S.A., Madison, Winconsin. USA.
Ülgen N, Ateşalp M 1974. Toprakta Bitki Tarafından Alınabilir P Tayini. Köy İşleri Bakanlığı, Topraksu Genel Müdürlüğü, Toprak ve Gübre Araştırma Enstitüsü, Teknik Yayınlar Serisi, Sayı 21, Ankara.
Whitman, C.E., Haffield, J.L., Reginato, R.J., 1985. Effect of slope position on the microclimate, growth, and yield of barley. Agronomy Journal, 77(5): 663- 669.
Walkey A 1947. A Critical Examination of a Rapid Method for Determining Organic Carbon in Soils: Effect of Varations in Digestion Conditions and Inorganic Soil Constiuents. Soil Science, 63: 251-263.
Walkley A 1947. A Critical Examination of a Rapid Method for Determining Organic Carbon in Soils: Effect of Variations in Digestion Conditions and of Inorganic Soil Constituents. Soil Science, 63: 251-264.
Wang F, Wang Z, Kou C, Ma Z, Zhao D 2016. Responses of Wheat Yield, Macro - Micro Nutrients, and Heavy Metals in Soil and Wheat following the Application of Manure Compost on the North China Plain. North China Plain. PLoS ONE 11(1): 1-18.
Zhao FJ, Su YH, Dunham SJ, Rakszegi M, Bedo Z, McGrath SP, Shewry PR 2009. Variation in mineral micronutrient concentrations in grain ofwheat lines ofdiverse origin. J. Cereal Sci., 49: 290-295.
Zhao Z, Chow TL, Rees HW, Yang Q, Xing Z, Meng FR 2009. Predict Soil Texture Distributions Using an Artificial Neural Network Model. Computers and Electronics in Agriculture, 65(1):36-48.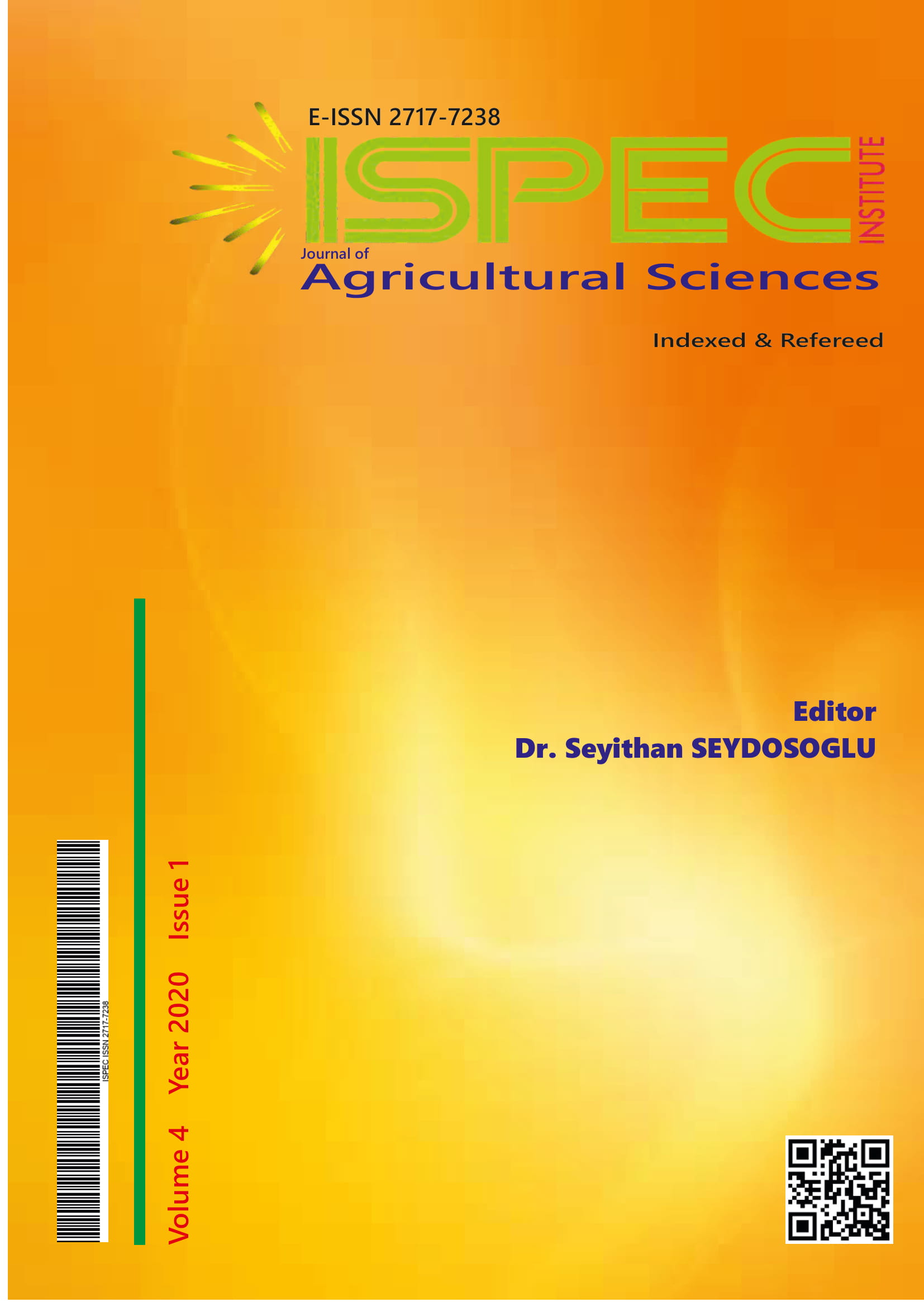 How to Cite
Fatih ÇIĞ, Ferit SÖNMEZ, & Murat ERMAN. (2020). Determination of Soil and Plant Analysis and Nutritional Status of the Areas Where Treated Wheat Breeding (Triticum aestivum L. var. Leucospermum (Körn.) Farw.). ISPEC Journal of Agricultural Sciences, 4(1), 136-153. https://doi.org/10.46291/ISPECJASvol4iss1pp136-153
Copyright (c) 2020 ISPEC Journal of Agricultural Sciences
This work is licensed under a Creative Commons Attribution-NonCommercial-NoDerivatives 4.0 International License.