The Effect of the Applications of Humic Acid and Potassium on Content of Nutrient and Oil of Seed and Yield of Sunflower

Abstract views: 255 /

PDF downloads: 212
Keywords:
sunflower,, potassium, humic acid, oil content, nutrient content of seed
Abstract
It was aimed determining the effect of the applications of humic acid and potassium on the nutrient content of seed (N, P, K, Ca, Mg, Na, Fe, Cu, Zn ve Mn), fatty acids, % oil content and yield of sunflower in a grower's garden in Söke, Aydın for two years. The experiment was arranged according to randomized complete block design with three replicates and five different doses of potassium fertilizer (0-4-8-12-16 kg da-1  K2O) and four different doses of humic acid (0-10-20-30 kg da-1).  The research was carried out on a total of 60 parcels and in the seed samples taken at the time of harvest, the amount of macro and micro elements, protein and fat ratios, fatty acid composition and also yield were determined. The highest grain yield was obtained from the parcels where 12 kg K2O da-1 potassium fertilizer, 20, and 30 kg da-1 humic acid were applied together. Depending on the increasing K doses, the head yield also increased, but a decrease in the yield occurred after the 12 kg da-1 dose, which reached the highest head yield. The total amount of nitrogen and crude protein in the seeds increased up to 12 kg K2O da-1, and total phosphorus and potassium 4 kg K2O da-1. Combination of potassium and humic acid has increased the oil content of sunflower seeds, while K applications have increased the oil content of the seed with oleic acid, linoleic acid, palmitic acid and stearic acid. Obtained results have shown that, in addition to potassium fertilization, the application of humic acid to the soil increases the quality of sunflower in relation to the amount of oil acids in the seed and the yield.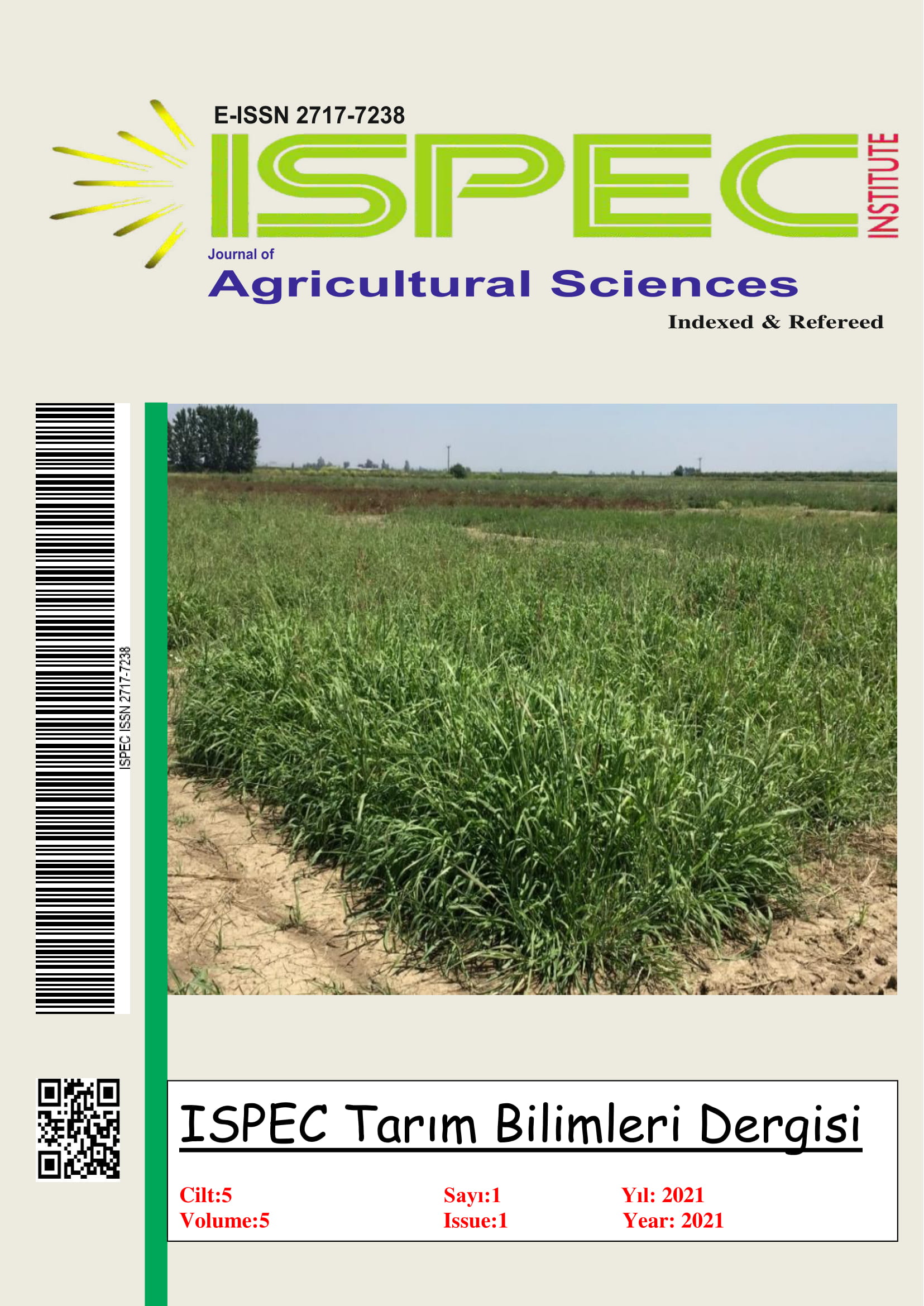 Downloads
How to Cite
Bülent YAĞMUR, Bülent OKUR, & Nur OKUR. (2021). The Effect of the Applications of Humic Acid and Potassium on Content of Nutrient and Oil of Seed and Yield of Sunflower. ISPEC Journal of Agricultural Sciences, 5(1), 156–167. https://doi.org/10.46291/ISPECJASvol5iss1pp156-167
License
Copyright (c) 2021 ISPEC Journal of Agricultural Sciences
This work is licensed under a Creative Commons Attribution-NonCommercial 4.0 International License.